Free Home Warranty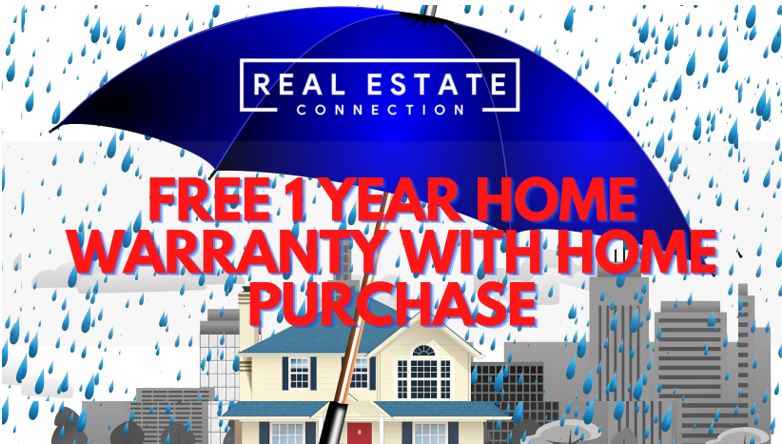 Purchasing a home is one of the most significant decisions that someone can make in their lifetime. At Real Estate Connection, we want you to rest assured, knowing all major repairs are covered. If you purchase a home with Real Estate Connection in 2021, you will receive a 1-Year Free Home Warranty covering most appliances and systems.
What is a Home Warranty?
A home warranty is a year-long, renewable home service plan that keeps you protected should a covered breakdown occur. A home warranty helps cut the cost to repair or replace many of the systems and appliances in your home and complements your homeowner's insurance by protecting things that your insurance doesn't. A home warranty plan is a specific coverage you select for your household and budget needs. REC home warranty service plans cover appliances, electrical, plumbing, heating, and A/C systems.
What is included in a home warranty service plan?
We believe that the items that keep your house running smoothly should be covered. REC home warranty plans include coverage for most kitchen and laundry appliances, parts of plumbing and electrical systems, and heating and cooling systems—regardless of their ages. The most comprehensive plan covers roof leak repairs, a free HVAC tune-up, unlimited A/C refrigerant, and code violations and permits coverage.
Here's what else our home warranty service plans include:
A trusted, qualified service technician to diagnose the issue. Depending on their diagnosis, we'll repair or replace the covered item (with one of equal value). 5-star customer service and communication. Our professional, friendly customer service team responds to your questions and resolves issues quickly. Reach out to us 24 hours a day, seven days a week.
A Trade Service Call Fee that you pick. You'll need to pay a fee each time you request service, but you decide the price! The great thing is, if your issue is covered, that's the only price you'll pay.
How does a home warranty work?
When one of your covered appliances or systems stops working properly (like a broken A/C, a roof leak, or a doorbell that doesn't work), contact the home warranty company, start a service request. (This is when you'll pay your Trade Service Call Fee.) Then, they will send out a service technician to your home to diagnose the issue if it's covered under your home warranty service plan, great! We'll have the contractor repair or replace the item quickly so your home can get back up and running again.
AT REAL ESTATE CONNECTION, WE BELIEVE THAT ALL HOMEOWNERS DESERVE TO HAVE A GREAT START, AND WE WILL DO OUR PART TO HELP YOU ESTABLISH YOUR HOME.